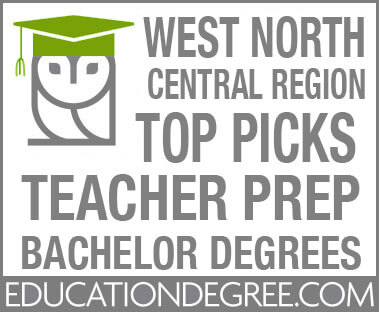 2021 – The Most Affordable Teaching Certificate Bachelor's in Education in the West North Central U.S.
Elementary Education
Empowering you to transform tomorrow's leaders in today's classrooms.
What will I learn with an Elementary Education Degree?
The Barclay College Teacher Education Department cultivates a Christ-centered, value-oriented environment in which you will be empowered for a life of effective Christian leadership and life of service, which is firmly built on a strong education of pedagogical training and field experiences. You will become equipped with real-life application and the professional knowledge necessary to become an exceptional teacher, in order to transform leaders of tomorrow in today's classrooms.
 You will be able to demonstrate a depth of knowledge to effectively deliver instruction.
You will acquire and implement research-based strategies to successfully manage classroom responsibilities, including goal setting, lesson design, assessment, and response to diverse student needs.
You will be able to demonstrate the understanding of professional behaviors based upon community culture expectations, integrity within relationships, and commitment to ongoing academic growth for self and your students.
You will develop and demonstrate highly competent communication skills in which making appropriate integrated learning experiences, including technology application, are delivered in a classroom setting designed to meet the needs of all learners.
You will be able to create a well-managed, inclusive learning environment, which demonstrates your understanding of the impact of positive teacher behavior and attitude within the educational setting.
You will cultivate student motivation by demonstrating creativity, enthusiasm, empathy, and genuine encouragement within a stimulating and inclusive environment.
Why should I come to Barclay College for an Elementary Education Degree?
"At Barclay, your professors get to know you and offer you personalized advice. As an Ed. Major, I loved the various hands-on opportunities I received to put into practice the skills I was learning—like the Math and Science camps, and the chance to tutor a student in Reading." Hannah, Huggins, MO
"The student-teacher ratio is low with quality time with your professors. It is an outstanding program that will prepare you for your career in teaching and will provide you with a learning environment that is beneficial to you as a student."  Nicole, Macksville, KS
"The program and your education is continuously being improved to enhance your career in teaching." Victoria, Wichita, KS
"With the elementary education program at Barclay I have been able to do many fun and hands on activities. I did what we called "Focus Friday's" with the Haviland Grade School. They do not have school on Friday's except for the first Friday of every month where they would work on doing more interactive and fun things while learning. We partnered with them and was able to do different fun science activities on those Friday's for a whole semester. I also was able to tutor a student in reading and that was great because I learned the importance of taking data and documenting everything. I plan to take these experiences with me into my classroom." Rebekah, Argonia, KS
Barclay offers a hands-on, project based application of learning in Elementary Education. This format allows our candidates to practice teaching strategies during their courses and to see it in action during early field experiences starting with your first semester. Candidates are involved in a Reading and Math Camp and STEM Camp with community children and tutoring experiences in reading. Student Teaching experiences are offered in rural school districts that typically have small class sizes and master teachers to learn from with a great intention of making sure the placement is a best fit for both the student teacher and the cooperating teacher. Barclay is one of two colleges in Kansas that offer both Association of Christian Schools International (ACSI) licensure and public school license through KSDE.
Barclay College
is one of two colleges in Kansas that has both ACSI accreditation and KSDE accreditation, leading to teaching licenses through both Christian and public schools.
provides training in dyslexia and beginning reading skills where candidates are taught how to teach beginning reading and provided the materials from the workshop through a donor.
includes student teaching placements in area school districts that typically have small class sizes and master teachers to learn from with a great intention of making sure the placement is a best fit for both the student teacher and the cooperating teacher
offers personal advising and career guidance.
does not require college algebra.
provides 100% of elementary education candidates who live on-campus with a 100% tuition discount scholarship for their degree.
has ensured that 100% of graduates have received public school and Christian school licensure.
100% of graduates who have sought a full-time teaching position, have secured a job, either in the United States or in mission fields abroad with KSDE and/or ASCI licensure.
Education Courses Embed
Biblical insights into education
Early field experiences in great rural school districts
Reading & Math Camp experiences
STEM Camp experiences
Hands on projects and application of teaching skills and strategies
Technology for the 21st Century
Small class sizes with experienced faculty
How can I use an Elementary Education degree?
Kindergarten to Sixth Grade Teacher
Public Elementary Schools
Accredited Christian Schools
Mission Field Teacher
Orphanages
Missionary Schools
Bible School Teacher
Preschool Teacher
What are alums of the program doing?
Teaching in Kansas, Texas, and Washington in elementary, middle school, and special education classrooms
Teaching in ACSI elementary classrooms in Idaho, Colorado, and Texas
Teaching English as a Second Language in China
Teaching in Christian elementary schools in China
What is the career/job outlook?
Quick Facts: Kindergarten – Sixth Grade Elementary School Teachers
2018 Median Pay
$57,980 per year
Typical Entry-Level Education
Bachelor's degree
Work Experience in a Related Occupation
None
Number of Jobs, 2018
1,569,000
Job Outlook, 2018-28
3% (Slower than average)
Employment Change, 2018-28
53,100
Course Requirements
Samantha Palmer
B.A. Elementary Education
Liberty Middle School, Pratt, KS
Have questions about the Elementary Education Degree?
Chelle Leininger
Chair of Elementary Education
M.Div. Azusa Pacific University
M.S. School Counseling from Fort Hays State University
Kansas Teaching License
Candidate for Ed.D. Educational Leadership, Kansas State University
* According to The Bureau of Labor Statistics (BLS)
+3%
job outlook*
Between 2018 and 2028
How to Apply
You'll hear from us each step of the way
Submit our easy, free
application
Click on "Apply" below to begin.
Complete
requirements
S

end your transcripts.

Complete your FAFSA.



Stand by for a
decision
Campus: We'll usually have a decision within 48 hours after your interview.
Online: A decision will usually be made within 48 hours.
Elementary Education Licensure Information
Accredited Programs leading to KSDE and ASCI Licensure
Elementary Education K-6th grade
Minors Available
Missions
Psychology
Music – Worship Arts
Youth Ministry
Graduate agreements available
We have graduate agreements available that can be incorporated into your program of study beginning your junior year
Fort Hays State University – Master's in School Counseling
Friends University – MEd in PK-12 Special Education
Accreditations and Awards

More Info
Please help support this campaign in the following ways:
Follow KSDE on Twitter (@ksdehq) and Facebook (www.facebook.com/kansasdoe/).
Retweet and repost KSDE Educate Kansas #Force4GoodKS social media messages.
Create a link on your organization's website to the Educate Kansas website: www.educatekansas.org.
Find opportunities to share the Be a Force for Good educator videos with others.