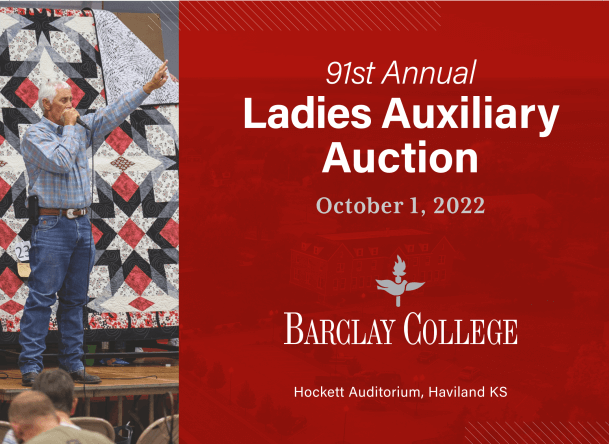 The 91st Annual Barclay College Ladies Auxiliary Auction will be held Saturday, October 1, on the Barclay College campus in Haviland, Kansas. All proceeds support the Full Tuition Scholarship that is awarded to all students who live in the dorms.
The following schedule has been set for the weekend.
Friday, September 30
Auction items may be dropped off at Hockett Auditorium throughout the day3:00-5:00 pm: Tours of remodeled Jackson Hall and Phillips Hall lower level.
4:00 – 5:30 pm – Barclay College vs Ozark College (Men's Soccer)
5:30-7:00 pm — Hamburger/Hotdog Dinner at Hockett Auditorium (outside)
7:00 pm Alumni Soccer Game at Barclay Soccer Field
Saturday, October 1
9:00 — Auction begins at Hockett Auditorium (food available for purchase all day)
9:30 am-Noon and 1:00-4:00 pm — Kiddie Carnival (Registration at Hockett) $10 per child, $8 per child for families with three or more children registering
1:00 pm — Quilts are auctioned at Hockett Auditorium
6:30 pm (after the Auction), Ross-Ellis Auditorium: Open rehearsal of the fall play, "The Lion, The Witch, and The Wardrobe." Open to anyone who wants a sneak peek of the show.
If you cannot participate in the Auction, donations can be made at: https://www.barclaycollege.edu/give/auction/.