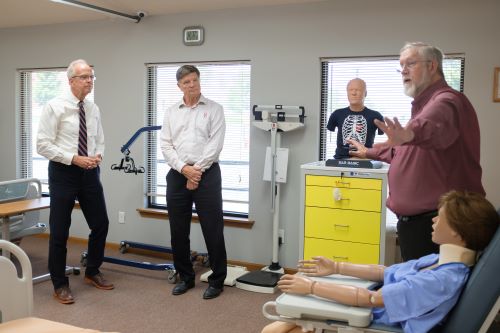 Kansas Senator Jerry Moran visited the Barclay College campus on August 10, 2023, to tour the Ross-Ellis Center for Arts and Ministry and Jackson Hall, the home of the School of Nursing.
"I appreciated the opportunity to tour Barclay College's campus and learn about the new nursing program," Senator Moran said. "Kansas is facing a shortage of health care workers, including nurses: and Barclay College is helping meet that need by welcoming their first students to the college's new School of Nursing this fall. I was impressed by the quality of the facilities on campus and look forward to working together to ensure that good things happen in Haviland."
The School of Nursing was launched in early 2023, and this fall has enrolled its first class of pre-nursing students for the Bachelor of Science in Nursing degree to be fulfilled on campus. Barclay College Online also offers an Online RN-BSN Degree Completion Program. The BSN program is approved by the High Learning Commission (HLC) and the Kansas State Board of Nursing. Its highly qualified faculty has over 34 years of combined nursing education experience. The curriculum integrates biblical studies, theology, and Christian worldview concepts into each course with a purposeful approach to integrating faith into the program.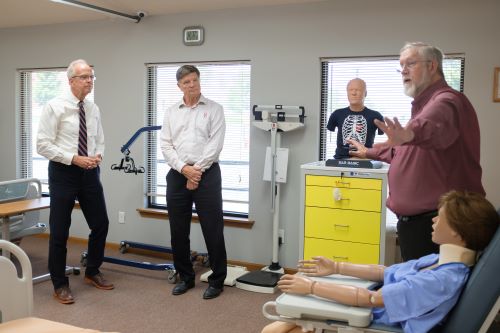 Senator Moran met with Dr. Royce Frazier, President of Barclay College, and Mark Miller, VP of Institutional Advancement. "It was a pleasure having the Senator at the campus. It gave us an opportunity to show the quality of our facilities and the advancements we are making in offering Southwest Kansas accredited college programs," said Miller.