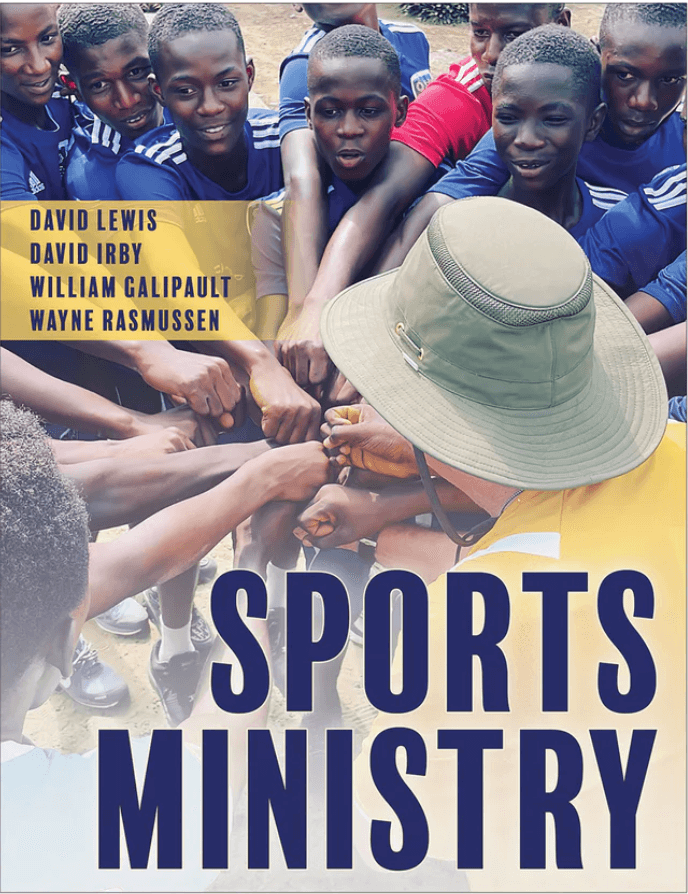 The first comprehensive textbook for a sports ministry degree was recently released by Human Kinetics Publishing, and one of our Graduate School Directors was on the writing team.
Dr. Bill Galipault, Director of Barclay College's MA in Sports Outreach, joined three other outstanding sports ministry program leaders, Wayne Rasmussen, The Master's University; David Lewis, Huntington College; and David Irby, Surge International, to develop the first textbook designed to train the next generation of sports ministers.
According to Human Kinetics's website, "The book begins with a description of what sports ministry is and a historical overview of the sports ministry movement, including stories of prominent individuals and organizations past. Students will learn about the many sports ministries serving today at the local, national, and international levels, such as the Fellowship of Christian Athletes, Athletes in Action, and Missionary Athletes International. Through each chapter's Sports Ministry in Action and 'Interviews with a Professional' sidebars, students will get a glimpse into the lives and ministries of individuals and organizations working in sports ministry and learn about the career opportunities available in the field.
"Sports Ministry is the definitive resource for building an effective sports ministry program. When done right, sport is a powerful platform that God will use to transform lives for His eternal purposes. With Sports Ministry, students will gain the knowledge and tools to share their faith and offer hope to others through the universal language of sport."
The textbook will first be used at Huntington College, IN; Houghton College, NY; The Master's University, CA; Milligan University, TN; and the Sports Outreach graduate program at Barclay College. The book is available at Human Kinetics.
Dr. Bill Galipault, Director of the MA in Sports Outreach program, hails from California and earned the Doctorate of Ministry degree from Azusa Pacific Seminary in Azusa, CA. He also holds a MSEd in Physical Education, a masters in Professional Studies, and a BA in Economics and Business.
At Barclay College, he directs the graduate program in Sports Outreach and teaches Foundations of Sports Ministry, Methods and Models of Sports Ministry, Spiritual Formation in the Sport Environment, and Leadership and Administration of Sports Ministry
Dr. Galipault cites the New Testament use of sports metaphors to illustrate spiritual truth and believes that these are gateways into the lives of athletes through which Jesus can be shared. "For those who feel that they were 'created to play,' learning how to take your faith into the arena of sport and demonstrate/communicate the gospel is exciting! Like other areas of culture that need to be redeemed, sports needs discipled Christ-followers participating."
Dr. Galipault enjoys opening up new areas of learning for students, challenging them to apply a biblical worldview to those areas, and then make that theology practical for them as individuals. "Seeing students gain the conviction and confidence of knowing 'why' and be able to communicate that to others is something that brings me joy," he says.
His doctoral project, "Spiritual Formation in the Team Sport Environment and its Application for Churches," studies how team sport environments are exceptionally suitable places for discipling believers.
Dr. Galipault also works with Missionary Athletes International, a soccer ministry that utilizes the soccer environment for ministry across the age spectrum, starting at age three!
The Sports Outreach Concentration (MASO) at Barclay College equips and prepares current and future Sports Ministers to "go and make disciples" in the global environment of sport. It gives students a theological and philosophical foundation upon which to build biblically sound methodologies for ministry. Students will acquire the knowledge and skills for the implementation of Sports Outreach Ministries in congregations, communities, schools, and international missions.
Graduate Studies at Barclay College offers a Masters of Arts in Theology degree in a fully online setting. The interdisciplinary model combines core Bible and theology course with a choice of nine concentrations: Spiritual Formation, Transformational Leadership, Pastoral Ministries, Practical Theology, Family Ministries, Quaker Studies, Missional Multiplication, Biblical Translation, and Sports Outreach.
The Graduate Studies degree is academically rigorous and fully accredited. Coursework is completely online with relevant research and field experience to meet a student's professional goals.
Outstanding professors and practitioners from around the country are committed to shepherd the learning experience. The community of online participants offers a shared experience with cohorts, even though hundreds of miles apart.
The Graduate Studies program can be completed in only two years (four semesters) and is affordably priced with scholarships available. Barclay College's financial aid department helps students find the financial package that works best for them.
Students interested in Graduate Studies at Barclay College may contact graduatestudies@barclaycollege.edu or (800) 862-0226. More information is available at https://www.barclaycollege.edu/graduate/.  To apply see https://www.barclaycollege.edu/apply/#/graduate.